Crane Rail Heating Control Panels
Thermal-Flex crane rail heating control panels are a standardized component assembly of contactors, ground break equipment, circuit breakers, transformers, relays, fuses and other devices mounted on steel back panel-boards to provide control functions for crane rail heaters.
The two essential control functions are turning on and off the heating cable, and ground fault protection.  Other functions include local heater on, ground fault indication, circuit flow for remote control, and circuitry for indicating tripped ground fault at a control point.  Other functions are offered for specific applications.
Thermal-Flex crane rail heating control panels are available from single circuit to multiple circuit configurations.  Optional control panel accessories include a variety of sensing devices permitting the heating elements to be remotely activated.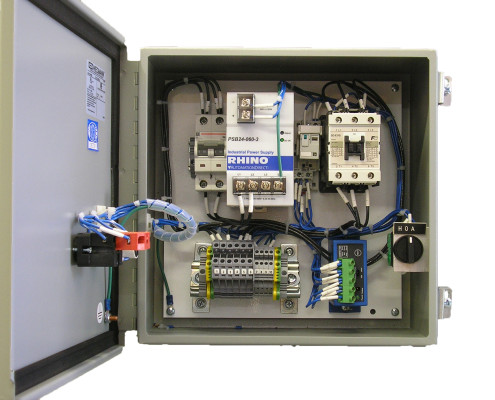 Local Remote
Heater On and Fault Indication
Individual Circuit Ground Fault Protection
Multiple Circuits Available
NEMA 4 Enclosure
Main Circuit Breaker
Contactors
Control Transformer
3-Position Selector Switch
Ground Fault Current Switch
Circuit Breakers and Relays
Terminal Blocks
Crane Rail Heating Cable Controls
Thermal-Flex electrical control panels are designed and built specifically to power and control our heating cable.  All of our control panels utilize off the shelf components and feature weather tight enclosures for outdoor use.  Control panels can be built to specific customer requirements.