Thermal-Flex MultiTrace constant wattage heating cables are designed to deliver uniform power output while providing freeze protection or viscosity maintenance for piping, valves, pumps, tanks, and vessels, as well as freezer floors and foundations and similar heating applications.  Constant wattage heating cables are also commonly used to prevent freezing of drain lines and air conditioning lines located in most industrial environments.  Constant wattage heating cables are essential to the frost protection and deicing of electrified power rails at many railroad transit companies and other types of people mover systems in cold northern climates.
Thermal-Flex MultiTrace heating cables are constructed of two parallel stranded, plated, copper buss wires with spiral-wound zones of nickel chromium heating wire. Alternating buss contact at designated intervals forms a link of parallel zones of equal resistance producing constant power output in each zone.  Cable jacket options such as metallic overbraids and Teflon® overjackets are available.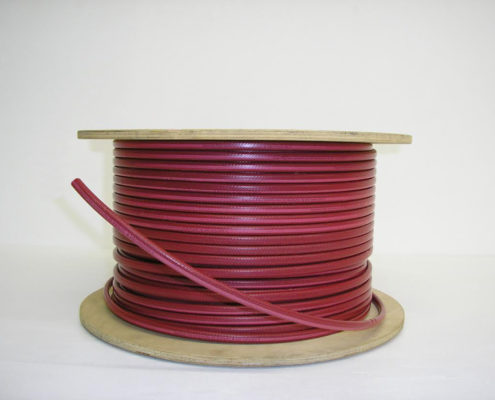 A) Buss Wires
Two 12 AWG tinned or nickel plated copper buss wires provide a reliable path for current.
B) Buss Wire Insulation
11 mil Teflon® FEP jacket insulates buss leads.
C) Extruded Binder
FEP extruded binder supports buss wires and provides a stable surface for nichrome heating wire.
D) Nichrome Wire
The nickel chromium heating wire supplies constant uniform heat output.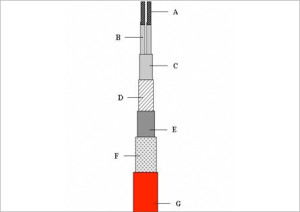 E) Outer Sheath
This 32 mil Teflon® FEP flame retardant sheath protects the heating wire while providing a highly corrosion resistant barrier.
F) Metallic Overbraid
An optional tinned or nickel plated 34 AWG 85% coverage jacket for positive grounding in hazardous (classified) areas.
G) Overjacket
A 22 mil Teflon® FEP jacket which provides protection against abrasion and chemically corrosive environments.
Approvals
UL and some CSA approval on all cables with F and G coverings.  Please call for verification on specific cable construction.