Junction Box Accessories
The Cord Grip Connector is a watertight connector designed to seal out moisture and provide strain relief for electrical cable terminations. The cord grip connector is available in a number of different sizes and materials and is UL listed and CSA certified.
The Burndy Unitap Mechanical Connector offers compatibility with both stranded copper and aluminum conductors. This connector features a plastisol covering that eliminates the need for taping.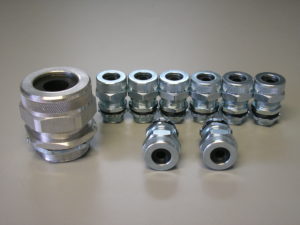 Installs into a Knockout or Threaded NPT Opening
Use in Wet or Dry Locations to Seal Electrical Connections
Corrosion Resistant Steel, Stainless Steel, Aluminum or Nylon Body and Ferrule with O-Ring and Lock Nut
Available Straight, 3/8" to 2" with Larger Sizes Available
Neoprene Grommet
UL Listed and CSA Certified200 to 800 Watts
Plastisol Covering Eliminates the Need for Taping
Pre-Installed Oxide Inhibitor Resists Moisture and Contaminants
UV Resistant
For Copper or Aluminum Conductors
14 to 4 Wire Range
2 to 8 Wire Ports