Rail Element Insulated Channel
Thermal-Flex Rail Element Insulated Channel is an integral part of our switch heating systems. First introduced to the railroad switch heating industry in 1976 as an energy savings concept, our insulated channel helps to increase rail temperatures by as much as 40% versus non-insulated rail elements. Thermal-Flex insulated channel is available in different sizes and materials to meet a range of rail configurations and trackside environmental conditions.
Our high density insulated channel is designed to surround the rail heating element at the rails webbing. The channel geometry is optimized to drive the rail element heat into the rail instead of it being lost to the environment as in non-insulated systems. Utilizing this design, an insulated rail element can often be operated at a lower wattage resulting in reduced operating costs. The insulated channel is easily held in place with spring steel track clips simplifying installations.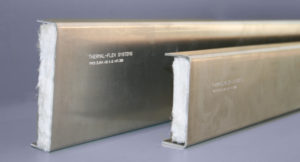 Aluminum or Stainless Steel Construction
Standard Sizes: 3.5″ W x 1.0″ H x 48″ L or 2.5″ W x 0.75″ H x 48″ L – Other Sizes Available
High Density Ceramic Insulation
Includes Protective Insert Between Insulation and Heater
Can be Cut to Size in the Field Using a Hacksaw or Power Chop Saw
Can be Reused when Rail Elements are Removed for Track Maintenance or Element Replacement
Energy Saving Insulated Channel
Thermal-Flex Systems insulated rail element channel is designed to hold and protect rail heating elements while efficiently directing heat into the rail. Our insulated channel is available to fit all standard rail types as well as other rail designs.