Rail Heater Track Clips
Thermal-Flex Systems manufactures a wide variety of spring steel track clips and bolt-on brackets to fit virtually any rail heater attachment application. In addition, we routinely fabricate custom clips as required by the application.
Thermal-Flex rail heater track clips were first introduced to the railroad switch heating industry in 1976, when the accepted method of rail heater attachment was by bolting. Our spring steel clip designs eliminated the need for drilling of the rail when attaching rail heaters. Typically used with our rail element insulated channel, this simple clip design helps to cut switch heater installation and removal time in half.
Today, both bolt-on and spring clip styles can be found, though the preferred method of attachment by railroad and transit companies is the spring clip design.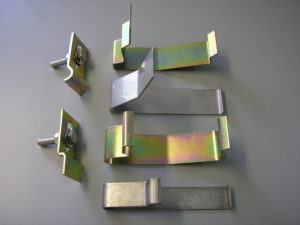 Clips are Manufactured in High Carbon Steel or Stainless Steel
Heat Treated and Zinc Plated for Corrosion Resistance
Bolt Style Features a Slot for Adjusting
Available with Flat or Rounded Face
Stainless Steel Hardware
Composite Rail Designs
Available for all Rail Sizes and Types
Custom Shapes Available