Switch Heater Flexible Rail Heaters
Thermal-Flex spiral fluted rail heaters offer a solution to troublesome installations where switch components are not configured for rigid rail heater designs. This is often the case with older switch installations that do not have a provision in the rail bracing to accept a rigid rail heater. The flexible design solves this problem as it is easily formed around rail braces.
Our flexible rail heaters provide up to 150 W/ft. of power at the switch point. And the flexible design gives track personnel the ability to quickly install a switch heating system without having to remove rail bracing or needing to drill the rail to install mounting hardware.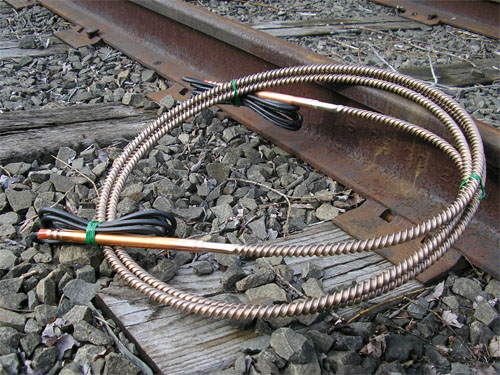 Spiral Fluted Tube Increases Heating Capabilities
Patented Internal Connector Compensates for Tube Expansion
Rail Temperatures 70° F Above Ambient
Tube O.D.: 0.570″ and Connector O.D.: 0.625″
Installation Behind or Around Rail Braces
10′ Foot #8 AWG DLO Leadwire
Heaters are Easily Clipped in Place
Insulated Switch Heating System
Coupled with Thermal-Flex high density, thermally insulated aluminum covers, lower wattage rail heaters are able to operate at maximum efficiency as heat is driven into the rail and not lost to the environment.  This highly efficient insulated design can increase rail temperatures by up to 40% versus non-insulated systems resulting in significant savings on power.