Switch Heater Single Ended Rail Heaters
Thermal-Flex Single-Ended Rail Heaters provide optimum heat at the switch point.  The single-ended design simplifies installation by bringing both lead wires out to a central point for termination.  This design further simplifies system wiring, especially when crib or ballast heating is used, by locating all component wiring at the power switch point.  The rail heater's small diameter tube slides easily behind track braces, and our spring steel track clips hold everything in place allowing for quicker installation and removal, and more importantly, eliminating the need for rail drilling.
Coupled with Thermal-Flex high density, thermally insulated aluminum or stainless steel covers, the rail heaters are allowed to operate at maximum efficiency as heat is driven into the rail and not lost to the environment.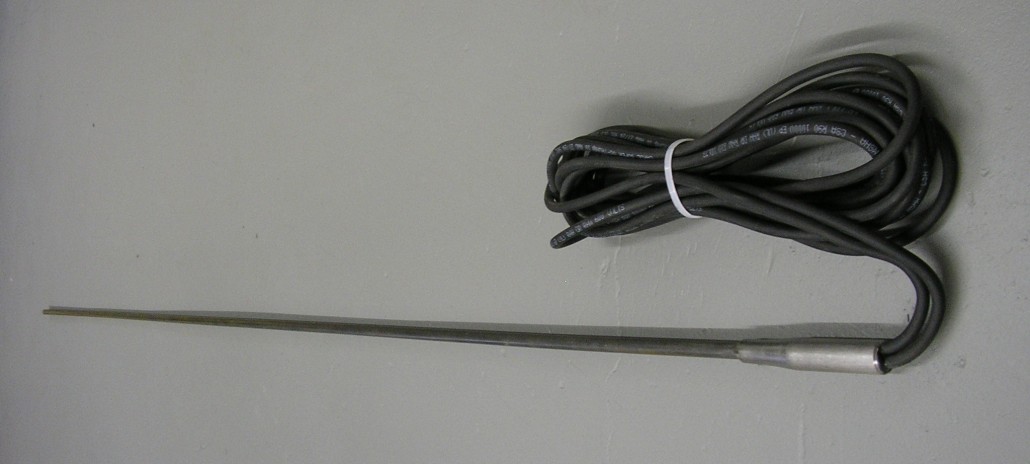 100 to 600 Watts per Foot
Voltage to 750 Volts
High Temperature Incoloy 800 or Stainless Steel Sheath
Tube Diamter 0.470″
Welded Epoxy Filled Connector, 0.750″ Diameter
Insulated Aluminum or Stainless Steel Covers Available
Rail Heaters are Clipped in Place
12′ Foot #10 AWG DLO Leadwire
Can be Shipped in Coils from 40″ Diameter or Crated to Heater Length
Thermal-Flex single and double ended rail heaters provide the flexiblity needed to complete difficult switch heater installations. Single ended rail elements permit the moveable rail in a moveable point frog to be heated while the stock rail is heated with high wattage double ended tubular rail elements. Both heating elements styles utilize insulated covers and rail clips to maximize heat transfer and simplify installation.