Third Rail Heaters
Constant Wattage Heating Cables are ideally suited for applications where watt density is required at all times.  The heating element consists of a nichrome wire wrapped around parallel insulated buss wires.  At specific intervals, a short section of insulation is removed from alternating buss wires to create connection nodes for the nichrome wire.  The nichrome wire is soldered to the buss conductors creating a network of parallel resistors along the entire length of constant wattage heating cable.  The cable can be designed to operate at voltages between 120 and 800 Volts AC/DC.  Constant wattage heating cables are an ideal choice for higher temperature applications where high watt densities are required.  The PFA jacket and nickel plated copper braid provide additional protection for use in corrosive and hazardous areas.
Constant wattage heating cables maintain their integrity in temperatures up to 482° F (250° C), and can be exposed to intermittent temperatures of 500° F (260° C) maximum.  The heating zones of constant wattage heating cables create an extremely rugged heat source that can withstand thermal shock and movement.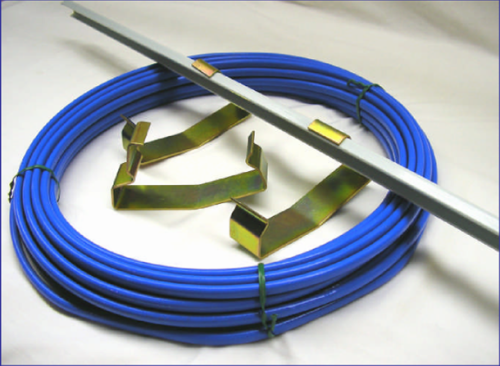 Flexible
Superior Thermal Aging Characteristics
Uniform Heat Output
Not Subjected to In Rush Current
Chemically Inert
Outstanding Weathering Properties
Resists Flame Ignition and Flame Spread
Temperature Rating: 482° F (250° C) Maximum Continuous Exposure Temperature
Applied Voltage: 600 to 750 Volts DC (as required)
Watt Density: 30-40 Watts per Foot (as required)
Third Rail Heating System
Thermal-Flex third rail heating systems feature a robust, industrial constant wattage heating cable, high temperature fiberglass containment channel and rail clips for secure attachment. Our containment channel and rail clips are offered in a number of different sizes and geometries permitting the system to be used with various types of rail.